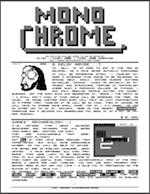 MONOCHROME magazine is a Sinclair ZX81 fanzine produced by Yerzmyey. The magazine is 12 pages long, printed in high quality using a special ZX font, in an A5 booklet.
Excellent quality with news for ZX80, ZX81 users, and their clones, packed with news and reviews of software and hardware.
You can buy it right now on www.sellmyretro.com. Price: £0.75 (+shipping).
Also you can read previous issues of the magazine:
Read Issue 1 of MonoChrome;
Read Issue 2 of MonoChrome;
Read Issue 3 of MonoChrome.
Enjoy this article?