Demo compo
1. 6. OSCOSS Entire Group 1845 / 221 = 8.35
2. 8. The Board II Alone Coder 1830 / 222 = 8.24
3. 1. DOZEN Megademo Hacker VBI 1437 / 222 = 6.47
Graphics compo
1. 4. HA_DHIWE rObat 1822 / 243 = 7.50
2. 1. Fishing Dimidrol 1747 / 241 = 7.25
3. 15. Exolon Diver 1701 / 241 = 7.06
Music compo
1. 5. Mission Andromeda Splinter 1351 / 176 = 7.68
2. 8. Arcane Zone Part 2 Yerzmyey 1222 / 168 = 7.27
3. 6. Minimoog r10 Husmann 1211 / 173 = 7.00
- 40 pages packing in the news from around the SAM Coupé Scene.
- What happened to Sandman's Shadow - information, screenshots and sketches from Gordon Wallis about the point-and-click adventure game he was developing back in 1992.
- Developer Diary - Lots of info from SAM developers featuring a Space Invaders Arcade Machine Emulator (Simon Owen), Wubtris + more (Rob Evans).
- Coupe Correspondence - lots of readers letters.
- SAM Comment - kicking around some potential new projects for the SAM Coupe.
On the coverdisk you'll find the full game 'The Witching Hour' by John Vincent (who also painted the fab cover artwork for the magazine too!) There's also the preview demo 'Minutes Before The Witching Hour'.
Issue 24 of SAM Revival cost £4.99 (including UK postage) or £6.99 (including EU postage). Order now!
Another quick gift from miajake and brightentayle, this time for sq/skrju!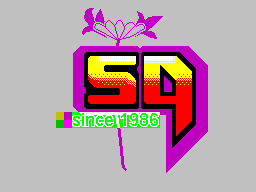 Russia: http://spectrum4ever.org/zxaaa13/
Boston: http://spectrum4ever.org/zxaaa13/?lng=eng
At Sinclairzxworld a new 1K hires game by Dr Beep is available. Locomotion is a game where you must built a track for the train that starts at the left down corner. Make a track and let the train return to the startingposition.
Each succesfull ended screen will give you a wopping point in the score.
Controls :
Qwert = up
Asdfg = down
12345=left
67890=right
Space to start a game.
On the screen you will see garbage after loading. This is initial code and relocated code over the systemvariables to make more memory usefull.
Finally in a ZX Spectrum version - "ASTRAL COMBAT". It's a 3-parts music-collection made in 2013. Contains 8 digital songs.
Credits:
All music by YERZMYEY/HOOY-PROGRAM
Code by SHIRU.
Graphic by TRIXS and PIESIU/AGENDA.
Well, some example of AY chip possibilities. Works on ZX Spectrum 48K with AY-interface. It can work with beeper but the songs have NOT been designed for beeper, so it will sound like you-know-what. Also You can use Covox, if You have one, attached to Your Speccy.
Keys:
A - AY
B - beeper
C - COVOX
M - music start
SPACE - next parts.
If You load from cassette, please remember - in the main part choose songs in order, from 1 to 6, to avoid searching on the tape.
You can find this music in MP3 files, recorded from real hardware, on this WWW site: http://yerzmyey.i-demo.pl.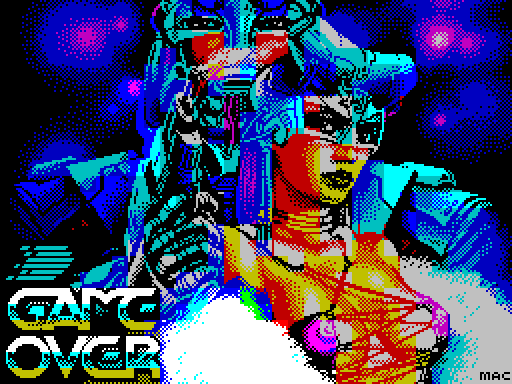 Как сообщает Касик, Artfield состоится 15-16 июня на том же месте. Вся инфа тут.
In this episode we go back to May 1984 and get all the latest Sinclair news and top selling Spectrum games. We have a mammoth arcade clone shoot and go ape over the best Donkey Kong clone. We check out some older games and look at some newer titles.
Happy birthday to pulsar/simbols!
Get the gift here (tape, TR-DOS and +3 disk images available)!