ZX Spectrum prods online!
7 pictures, 4 music compositions and 2 demos.
Title: The Tales of Grupp
Author: Retrobytes Productions
Release date: 2015-02-20
Download: http://retrobytesproductions.blogspot.com.es
The BEEPER / ZX48 compo:
01. MISTER BEEP - Interstellar Drift
[POLAND]
02. Ktcmoop - Bubble Cane
[UNKNOWN]
03. Interrobang Pie - Freshly Glazed
[UNITED KINGDOM]
04. irrlicht project - movement.16
[NETHERLANDS] actually it's *.de)
05. MKSTAR26 - IIS. Machine: Improvise
[UNITED KINGDOM]
06. FrankT - Cosmic Hope
[UNITED KINGDOM]
07. mk7 - Mighty Phas0r
[RUSSIAN FEDERATION]
Songs (also from other compos of the Winter Chip X ) — http://battleofthebits.org/arena/Battle/2301/Winter+Chip+X.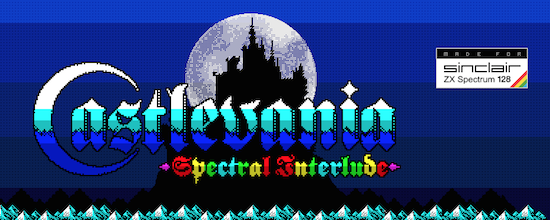 Even if Konami lost all interest in making proper Castlevania games, Dracula's Castle can't be kept in the void forever. It just so happens, that this time fans were the ones to aid in it's return.
It was originally invisioned as a "demake" of Castlevania II: Simon's Quest but eventually turned into an original independent game for ZX Spectrum.
It is an action-adventure platform game with elements of RPG. It merges well known elements of classic games with some new ideas. It tells a new story which tries to remain consistent with the canon of original franchise and explains why Belmonts disappeared for many years.
Dracula's Castle is awaiting new guests!
Yura [pulsar+thery] was born today on 12 February, 2015 at 5:25 AM. Congratulations and Happy birthday to the parents and their son!
What a beautiful day!
It will light the way!
ZEsarUX is a Sinclair ZX Machines Emulator for Unix (Mac OS X Yosemite, Linux), including:
— ZX80
— ZX81
— ZX Spectrum
— Z88.
Changes are:
Added Cambridge Z88 emulation
Added Real audio tape loading on ZX Spectrum, ZX80, ZX81 (.rwa, .smp, .wav, .tzx, .tap, .p, .o formats). It handles loading of turbo load tapes or any type of tape loading for standard/non standard loading routines
Added Support for Chroma81 - Colour mode on ZX81
Added interlace and scanlines mode
Added Gigascreen mode
Added option to autoenable AY Chip when it is needed
Added option to change View Waveform Shape
Added option to find bytes, useful to discover POKEs
Added option to emulate RAM refresh
Added option to enable CPU transaction log
Added option to View Basic
Added loading support for ZX80 snapshot .z81
Changed .ZX snapshot to version 5 to support Z88 snapshots
Improved Beeper sound on all machines: Spectrum, ZX80, ZX81, Z88
Improved Inves Spectrum+ emulation
Fixed idle bus port value on +2A machines and memory paging enabled
Fixed timing with CALL opcodes, better ZX80/81/Spectrum hi-res video effects. No more need to use Video t_states offset on ZX81
Fixed MEMPTR value on some opcodes
Fixed cpu initializing registers and magic RANDOMIZE USR 46578. See http://foro.speccy.org/viewtopic.php?f=11&t=2319
Fixed cpu opcode OUT(N),A
Fixed WRX mode on ZX81 and last column
Fixed ZX80/81 display bug and linecntr counter
Some other minor bugfixes and improvements
Author: Bob Smith
Release Date: 23/12/2014
Requirements: 16K (ZXExpand joystick & Chroma 81 colour support)
Description: Breakout / Arkanoid clone.
Author: Bob Smith
Release Date: 15/11/2014
Requirements: 16K (ZXExpand joystick support)
Description: Top-down map-based shooter
In this episode we take a look at the Sinclair news and top selling Spectrum games from February 1986.
Эмулятор iZX для iOS стал бесплатным. Артем Базаркин всё меньше и меньше располагает свободным временем на разработку эмулятора. Тем не менее, добавлена возможность POKE, поддержка iOS8, и прочее.
Patrik Rak обновил эмулятор ZXDS для консоли Nintendo DS. Добавлен список последних загружаемых файлов, исправлена статистика, исправлены ошибки.
Запущен новый блог Hype, претендующий на статус развлекательного портала по ретро-тематике. Статьи на серьёзные темы, тем не менее, приветствуются. По задумке сайт должен стать первым, который ты открываешь каждое новое утро. Вливаемся!