Объявлены первые спецификации на разрабатываемый компьютер Spectrum Next. Рабочий прототип обещали показать уже в этом году.
Процессор: Z80 3.5Mhz и 7Mhz.
Память: 512Kb RAM.
Видео: ULAplus с расширенными видео-режимами и палитрой.
Видео-выход: RGB, VGA, mini HDMI.
Накопитель: SD Card разъём, с DivMMC-совместимым протоколом.
Звук: Аудио-чипы AY-3-8912 или FM2149 (на выбор), стерео.
Джойстик: DB9 разъём, совместимый с протоколами Cursor и Interface 2.
PS/2 порт: Мышь с режимом Kempston-эмуляции, или внешняя клавиатура.
Прочее: Функционал для доступа к памяти, сохранение игр, чит-коды, и так далее.
Поддержка ленты: Порты аудио-выхода и микрофона для загрузки/записи ленты.
Расширения: Bus-порт для внешних расширений, и порт для ускорителя.
Плата ускорителя: GPU / 1Ghz CPU / 512Mb RAM.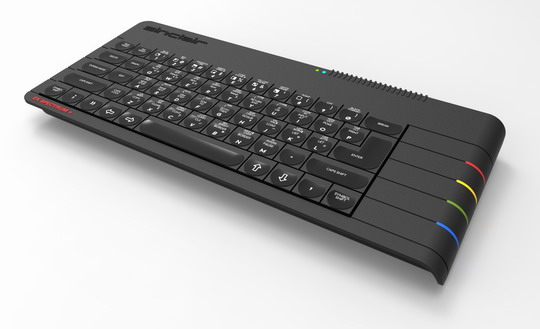 Обновился эмулятор Free Unix Spectrum Emulator. Список изменений:
Add support for the hidden MEMPTR register
Mark new disks as needing to be saved
Show more information on disk modification status in menus
Fix multiple save of disks
Allow overwriting disk images
CompactFlash drivers by AmoNik attached.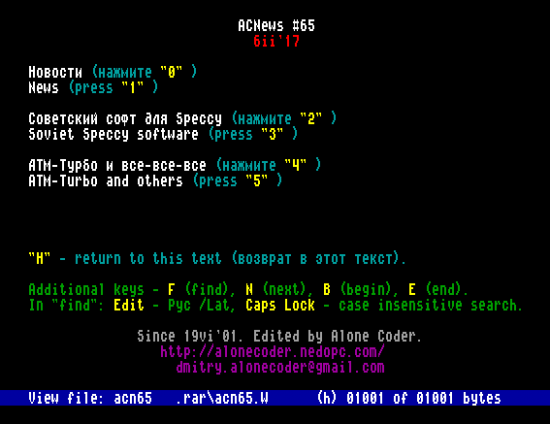 Deathsoft выпустил новую версию эмулятора Спектрума UnrealSpeccy для Windows. Скачать. Кто успел скачать в 2016 году - качаем снова из-за исправленных ошибок.
Ламеры, тем временем, не дремали и запилили продолжение к Hypegy #1. Взять можно вот тут (ссылка, очевидно, долго не проживёт): Hypegy #2. К сожалению, то ли ламеры сильно торопились, то ли просто откровенно лажали, но файл битый -- не всеми эмулями открывается. Также почему-то ничего не запаковано и отсутствует boot.B.
Пришлось пофиксить (только основное, бут и нормальный имедж): Hypegy #2 fixed.