1Bit ZX Spectrum Music
1. The Invasion / brightentayle 4.43
2. surprisingly NOT four twenty / raphaelgoulart 4.42
3. Acuaca / John Norton Irr 2.17
4. Glass / John Norton Irr 2.04
8bit Chip Music
1. April Going / kotsoft aka d.j. kot 4.53
2. Maybe Next Time / nix./site 4.07
3. Elite knight / VBI 3.95
4. Stayin Alive / Gibson 3.29
5. Sonnacpu / Kakos_nonos 3.20
8Bit Graphics
1. Bear / Dimidrol / Dmitriy Bakhtin 4.70
2. Girl with hat / Vassa 4.55
3. Yoda / prof4d 4.52
4. Wrong Bees / TmK / Alexandr Solodkov [^deMarche][^di:Halt:team] 4.46
5. Game Over 3 / Jose Luis Pendejo 4.25
6. Witches have long hands / Vassa 3.80
7. Dragon attack / shuran33 / Alexandr Budkin 3.52
8. Bart Simpson vs Pacman / g0blinish 3.16
9. curvature of space / John Norton Irr 3.09
10. zxokia / Kakos_nonos 3.02
11. Chemistry phonen / John Norton Irr 3.02
12. Garden / denpopov 2.95
8Bit 256b intro
1. BB / introspec 4.55
2. Crypto / trefi & tiboh (debris) 4.23
3. Down with Rules! / introspec 3.73
4. Rasta / g0blinish 3.71
5. dreamtro / trefdeleev/dreambris 3.70
6. Moving Border / ShaMAN / Ruslan Novikov 3.58
7. Logo MM / bender64 3.46
8. Fake256 / g0blinish 3.34
9. Wire World / denpopov 2.69
10. s256 / shuran33 2.54
11. ColoDrum / VBI 2.52
8Bit Demo
1. RoboCop demo / Kabardcomp & team site 4.51
2. dinvtro / Mr.Scrololo 4.02
3. SmileMF / denpopov & g0blinish 4.00
ZX Spectrum attributes (53c)
1. подснежник / Вадим Кузьмиснкий 4.55
2. Мороженка / Krossvas 4.14
3. Dansing penguin's / AntiBender 4.02
4. ВЕСЕННИЙ ПОЖИРАТЕЛЬ ЦВЕТКОВ / Сергей Лета 4.02
5. если бы диззи был пингвином / TmK 4.00
6. По весне пИнгвины совсем распустились! / K.C. 3.82
7. ping / moroz1999 3.78
8. springuin / hydrogen 3.71
9. Яzь! / Buyan 3.61
10. slide / Анна Кузьминская 3.32
11. Spring love finds yours pinguins / Nuts_ 3.29
12. Пингвин / Егор Стуленков 3.28
13. Весна. Такая весна. / Marinova Alexandra 3.11
14. пингвин на мультиматографе / Наталия Куклина 3.06
15. Зе Линукс борн ;) / AntiBender 2.97
16. spring penguin / square 2.96
17. too HOT / Nuts_ 2.93
18. pingvin changes live / John Norton Irr 2.75
19. Ping Timeout (160 sec) / brightentayle 2.63
20. Green / Kakos_nonos 2.58
21. Southern guest / Jack^Therac25 2.29
22. Vesna is coming / Kakos_nonos 2.16
23. Old Vesn / John Norton Irr 2.13
24. из раннего / Пикассо 2.12
Realtime ZX Graphics
1. rocket raccoon / diver4d 4.79
2. Day at God's service / moroz1999 4.15
3. Енот весь день пил чай с мистером Свином / Vassa 4.02
4. FatEnot / shuran33 3.69
5. And There Were Three Photoshopped Raccoons Or So / brightentayle 3.52
6. За травой / nodeus 3.44
7. Alienot on the enemy planet / Kakos_nonos 1.96
Its two years since the show first appeared on YouTube, and this show marks that occasion by looking back over the last 24 months.
In this episode we take a look at the news from May 1985. We compare arcade clones for one of the all time great blasters - Defender. We review some older games. We take a look at a newer game and end the show with Type-In Corner.
The theme for your three-hour picture should be "One day in a life of a raccoon".
Send your stuff to demoscene (at) multimatograf.ru
Good luck!
http://demoscene.multimatograf.ru
On Saturday, from 9:00 to 12:00 GMT, there's going to be a realtime graphics competition going on. The theme will be announced then, and shall be reposted to Speccy Live, so stay tuned!

Welcome to episode 82 of The Retro Asylum, the UK's No1 Retro Gaming Podcast.
In this episode your hosts are MrSid aka Sam and PressPlayOnTape aka Steve. The guys take a look at one of the most popular game developers/publishers ever; Ocean Software. Starting in 1984 where it all began, and then working their way through the years right up until 1998.
The Spectrum Show 16K Edition. Invaders by Artic Computing 1982. Is this a poor character based jerk-fest or one of the best Space Invaders games for the Spectrum?
The Spectrum Show 16K Edition. Ghost Hunt by PSS 1983. Could this be some spooky game of terror or just a below average pacman game?

Well, we're proud to present the new Speccy Live feature: Picture of the month.
Vote for the best pictures on ZX Art and watch them on Speccy Live.
ZEsarUX is a ZX Machines Emulator for Unix, that emulates 16k, 48k, Inves Spectrum +, Spectrum 128k (English and Spanish), Spectrum +2 (English, Spanish and French), Spectrum +2A (English and Spanish), Microdigital TK90X (Portuguese and Spanish), TK95, ZX80, ZX81.
Version 0.6. April, 22th 2014:
Added ZX Spectrum smp tape loading (raw audio)
Added Image stabilization for hi-res modes on ZX80/81
Added real video display for curses and stdout for ZX80/81
Added Pulse Audio driver
Added experimental support for MEMPTR register - not enabled by default on configure
Changed border size for curses
Improved HRG Support: no more need to enable HRG option. To use HRG you must load HRG-driver.p and then LOAD "" the hrg program selected
Improved ZX81 tape routine: now you can load a ZX81 tape with LOAD "NAME" (it will load "NAME.P" file). It is used in multipart games
Improved ZX81 hi-res modes (WRX and others) - better handling of image width
Speeded up a bit some Z80 opcodes
Fixed bug with alsa driver and non-pthreads version
Fixed bug with CHR$128 and characters from 64th.
32 years together. T H A N K _ Y O U !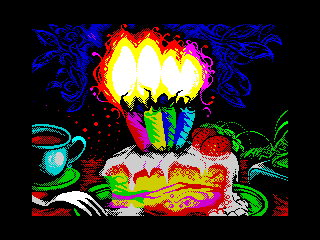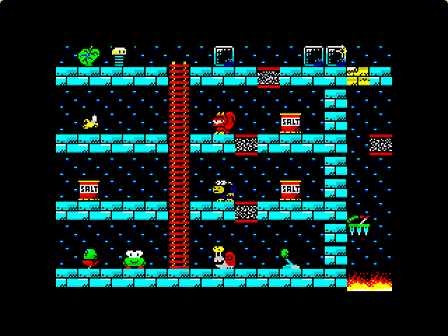 You are El Stompo, TV repair thing of some considerable repute. Your job is very hazardous but you are very skilled. Fix all the tellies on each level by stomping on them, sounds easy? Well with a lethal mix of arcade and puzzle you'll find yourselves challenged.
The Cosmic Orphans presents

Next generation of ZX Spectrum gifts. Pulsar's 30 years – once & forever.

Starring:
Idea, msx: Brandon
Code, support: Lessy
Art, one hard restless night: prof4d
Code support: Scarab, alone