I guess you have something to say about the works on the recent parties. Okay, actually, I know you do, right? Then, here's a nice chance to get known in a lot of upcoming diskmags (included, but not limited to Lighter). People want your opinion!
You just click on this nicely crafted link, pick a prod you like and leave a review on it. A signed one, of course. Here's a few rules you need to note while you're writing, though:
1) Leave your thoughts on a specific work. If you rev the compo as a whole, this will be plucked out.
2) Anonymous reviews will be plucked out as well.
3) Swearing is somewhat allowed, but not encouraged.
If you want to know what you're reviewing exactly, here's a reference to most (if not all) stuff met here:
Chaos Constructions 2012 Graphics
Next Castle Party 2012 Graphics
Next Castle Party 2012 Pack (online)
Next Castle Party 2012 Pack (TR-DOS)
The game reviews may be accepted till the 9th of December.
Thanks to Gasman, issues three and four, which were translated from Russian to English, are now available in .tap! Discuss these on the WoS forum boards.
Meanwhile, issue five is on the move!
Don't forget to take a look at the Russian originals, if you want, both downloadable here and there.
Столько времени прошло, а новый Burn The Lighter так и не вышел! Исправляем ситуацию, причём в совершенно новом формате.
Пока что в цикле Better Than Raw содержится только два выпуска, но в этом месяце планируется расширить его до четырёх или пяти, так что регулярность выхода можно гарантировать с полной уверенностью. :)
Oh yup. Right on my birthday. Thanks to sq. :)
So, there is a couple of versions you may download and read straight away: a clear and pure TAP file, with the help of which you can port the diskmag to your favourite disk system; and a TZX file, made for the cases when you try to load the TAP, but something goes terribly wrong and the mag doesn't run.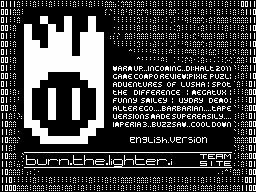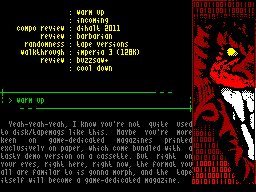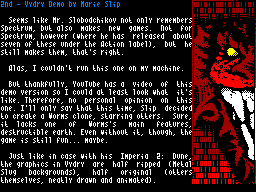 Hotkeys you definitely WILL need:
Hold Caps Shift during the loading process if you're willing to use your beloved Kempston pest.
The "1" key will make the whole text colored in a whole one shade, in case if you can't stand the flicker. Same for the "4" key, except it still keeps most of the text colored in different ways.
In the same fashion, "2" changes the background color. :)
Well, that's all you need to know. Look for the links above and enjoy your stay at our cafe. More coming soon.
Crash Nicker
Хорошая новость: он вышел, прямо перед новым годом. Плохая новость: пока в стадии беты.
Тем не менее, материала хватит как раз на один новогодний вечер.
Всех с наступающим (а для кого и с наступившим)!
Встречайте первый номер свежей русскоязычной газеты Burn The Lighter, нацеленной на игровую индустрию Спектрума. Скачать.