New Year Gift
01 171 Yet another HNY 2k15 gift by Buyan & Splinter
02 160 NEW YEAR GIFT FROM THREE SANTA by Hacker VBI, nodeus, N1k-O
03 154 Trigona Kalanda by Kakos_nonos/Kabardcomp
04 150 New year 2015 gift by kotsoft
05 144 HAPPY NEW 2015 ZX YEAR by nodeus / light future
ZX Enhanced Demo
01 202 Pixel Demo by AAABand Group
02 156 Fractus 3D by deFarce/deFarce
ZX Spectrum Demo
01 175 T.D.S.I. by denpopov,g0blinish
02 148 DiHalt Gagarin Tunneltro by DiHalt visitors
03 131 Pohod by John Norton Irr/Kabardcomp
Tiny Intro
01 182 streams of gaia by sensenstahl
02 143 SnowFall by g0blinish/
03 124 Plasmoid by wbc ^ b-state
ZX Spectrum Intro
01 168 Winter Mega Party by tiboh
02 158 Rhombus by denpopov
03 141 Hypno by g0blinish
Animation/Video + Wild
01 142 mech-10 by nodeus
ZX Spectrum Graphics
01 241 "np" (New year Picture) by prof4d
02 206 Pirate by Buddy
03 184 Party Girl by Dimidrol
04 158 Raven by Lilka
05 143 Manyaschie dali by John Norton Irr/Kabardcomp
06 135 Strange Phone by John Norton Irr/Kabardcomp
07 131 Insight by Lilka
08 120 1 plus 1 by Lilka
ZX Spectrum Music
01 185 [abandoned] temple at night by scalesmann/march[ing] cats feat virtual man
02 180 January Days by MmcM/Sage
03 153 bright clearing by scalesmann/march[ing] cats feat coma of 3el
04 150 unused lips by scalesmann
05 147 39 inches by scalesmann
06 145 Bit Attack by Alone Coder
07 142 Squeak from heaven by wbc ^ b-state
08 91 Dont Fear the Beeper (and AY) by Abrimaal
Graphics
01 172 ice wyvern by nodeus
02 152 mech-10 by nodeus
03 142 Star Trek'73 by mr_r0ckers
04 134 Idut by John Norton Irr/Kabardcomp
05 132 vulcan by Rainman / deMarche
06 98 Planeta by John Norton Irr/Kabardcomp
Multichannel Music
01 173 end of winter by kotsoft
02 121 synth that way! by wbc ^ b-state
Fast Graphics
01 164 untitled 897 by prince/the Obsessed Maniacs / TRSi
02 140 difference by John Norton Irr/Kabardcomp
03 117 Mnogoglazka by Kakos_nonos/Kabardcomp
Fast Music
01 146 Moon flight by scalesmann/march[ing] cats feat LHS/DFS
02 117 Psychodelic Apple (improvisation) by Kakos_nonos/Kabardcomp
03 103 overdozing by wbc ^ b-state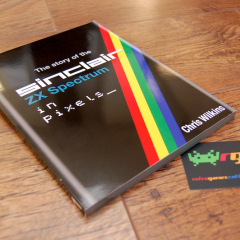 Imagine Christmas 1983 if you will. An excited young boy has been asking (probably annoying) his parents for the latest Sinclair computer for nigh on a year. Fed up of his ZX81's wobbly 16K RAM pack, often the undoer of many a programming session, he longs for more. A machine with sound …and colour. Doesn't sound like much to ask for nowadays, but back in '83 it was the next big thing to a kid on a council estate...
Хватит точить лясы и жамкать плюсики, на носу череда патей! Все быстро пилим работы! :-)
In this episode we get all the Sinclair news and top selling Spectrum games from January 1986.
It's arcade shoot out time again, this time we check out Berzerk clones.
Hippiman (автор игр Innsmouth и Project R.O.B.O.) представляет полную версию первой игры из серии Space Mercenary:
Это походовая Action-RPG с видом от первого лица. Игра состоит из обучающей миссии (в которой подробно рассказывается о премудростях ролевой системы и управления), а также нескольких уровней с уклоном в сторону боевых действий. Мы играем за космического наёмника - охотника за головами - Флая Тарра, который, возвращаясь с очередного задания, неожиданно был взят на абордаж пиратами. О том, как он выбирался из пиратского плена, и повествует SpaceMerc Prologue.
Для запуска игры требуется ATM Turbo 2 (или ZX Evo baseconf, или Pentagon 2.666LE).
Новогодние каникулы -- самое время сделать что-нибудь полезное. Вот я и сделал. Теперь на пентеве эмулируются развёртки 48к и 128к. Ну и само собой, тормозная память тоже.
Видео прилагается:

http://www.youtube.com/watch?v=XOayIyZPAvk
Данная фича добавлена в расово православный конфиг пентевы Baseconf. При этом ни одна другая фича не пострадала (ULAplus осталась, например). Пользователи других дендиконфигов плачут от зависти :-D
Релиз произошёл на зимнем Дихальте http://dihalt.org.ru/
Видеозапись этого релиза прилагается (видео снято Пашей Flast'ом)
Благодарности:
savelij за поддержку фичи в Evo Reset Service и убийства выявленных багов
alone за бетатестинг
Gasman за подсказки, наводку на софты с мультиколорами
Mike & Evills from ZeroTeam за код эффекта из "we are alive", и тоже за наводку на софты с мультиколорами
bolek: за наводку на софты с мультиколорами
Автор клона спектрума Harlequin -- за описание своих мучений и крутой insight в тему задержек.
(если кого забыл, пинайте, добавлю)
Некоторые подробности:
1. Все вейты реализованы по доке на WOSе, т.е. они включают в себя задержки при определённых адресах на ША в любой момент и специфические задержки, когда известно, что уже идёт обращение в порты или в память и т.д. (см. WOS)
2. Растры сделаны с точностью до такта, но тактовая ровно 3.5 МГц, потому что 3.54 взять неоткуда.
3. Порт ФФ пока не сделан, потому что пока я не видел вменяемой доки о том, что и когда из него читается. Если у вас есть такая дока -- кладите в комменты ссылку.
4. Прикручен костыль для порта 7ффц, в остальном дешифрация такая же (полная).
Ссылки (пока в svn, не в виде официального релиза на сайте nedopc.com):
Firmware: zxevo_fw.bin
ROM: zxevo.rom
Небольшая инструкция: теперь скролл лок работает без шифтов, переключая режимы в цикле из 8 (при этом 1 нажатие -- переключение VGA<>TV, чётное число нажатий -- переключение растров pentagon->60hz->48k->128k).
Для того, чтоб работало contended memory, надо выбрать растр 48k или 128k и частоту процессора 3.5 MHz
Теперь автостарт tap можно отключить в " Setup". Это сделано для того, чтобы выбрав tap в File Browser'е, можно было запускаться с ориг. ПЗУ от 48к или 128к (Service->Basic).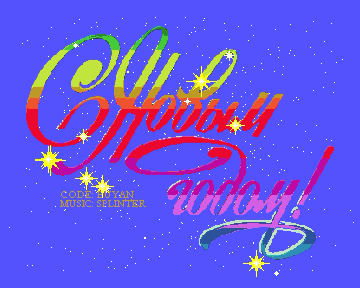 2015 New Year gift for ZX Evolution TS-Config platform.
Code: Buyan
Music: Splinter
Youtube
Emulator
Download: HNY2k15_2TS