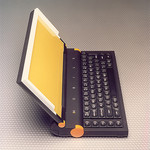 Rick Dickinson, British industrial designer of Sinclair Research Ltd published a collection of some of the industrial designs he produced at Sinclair Research including development drawings, models, and also ideas that never became finished products.
Here you'll find ZX80, ZX81, SPECTRUM, QL, FLAT SCREEN POCKET TV, Z88, PANDORA, LOKI, TOP SECRET PROJECTS.
Рик Дикенскон, один из дизайнеров Sinclair Research Ltd., опубликовал в интернете коллекцию индустриальных дизайнов, среди которых есть как картинки и чертежи вышедших моделей, так и невышедших.
Enjoy this article?