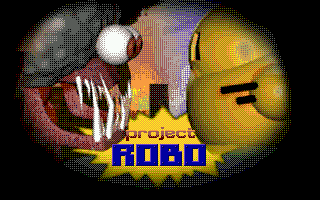 It now can be honestly said that while the Russian game development seems to be back on its' feet, the ZX Evolution gamedev has only arose. Here's a fine proof: hippiman has made this quirky blend of a top-down shooter and a rouge-like game on pure C (which couldn't be possible without the SDK developed by Alone Coder and Shiru, though), which also includes eyecandy comparable to what you may see on Sega MegaDrive and really lush music from Sprinter.
Given that this game was made for a really sophisticated Spectrum clone, most of you guys might not own an actual PentEvo, but that's not a big bother, since you can run it on a very special emulator available here (use F3 to load the game, then F12 to reset to TR-DOS and autorun the game). WASD moves the player robot while cursor keys let him shoot in different directions.
Download the game itself here!
Сейчас можно с полной уверенностью сказать, что отечественный геймдев на Спектруме наконец-то встал на ноги, при этом уже разогнано производство игр на Пентеву. Яркий пример: новая игрушка от hippiman'а, сочетающая в себе аркаду и rougelike, великолепную графику, не уступающую Sega MegaDrive, и классную музыку от Splinter'a.
Те, у кого ещё нет ZX Evolution'a, могут воспользоваться услугами этой сборки UnrealSpeccy. Движение персонажа идёт по WASD, стрельба - по курсорным клавишам.
Enjoy this article?