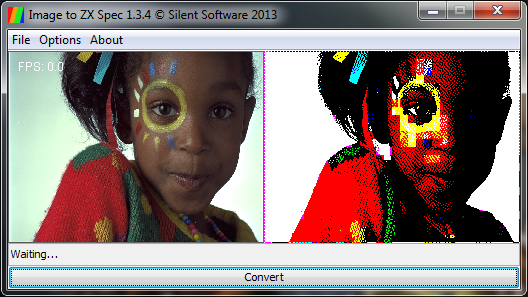 As a reminder, Image To ZX Spec is a multi core capable image and video converter that can produce vintage computer art images (jpeg/png) of any size and can even convert work to a real ZX Spectrum (or an emulator) as a slideshow or video. This is useful to create retro 8bit music videos, posters, tshirts, mock screenshots etc etc - you do not even need a Spectrum to use this program!
Version 1.3.4:
Updated for Java 7.
Added VLC compatible video importing option.
Added simultaneous video decode/spectrum encode.
Added new prefer detail setting improving output.
Added new Sierra error diffusion option.
Added automatic preference saving.
Added dynamic memory allocation (grabs as much free as possible).
Added conversion cancel button (finally!).
Removed some redundant localisation code.
English text and licenses changes.
Enjoy this article?