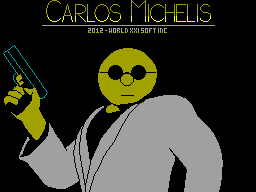 Carlos Michelis, a new game from Argentina, stuffed with action, adrenaline, puzzles and cutscenes, is now finally out for sale, after being presented on Next Castle Party 2012. Among other features, it also includes multiple languages and a fully-working 48K support. If you don't know if the game's still worth buying it, a one-level demo of the game can be downloaded here.
In fact, according to Ariel Ruiz himself, a physical TR-DOS version of Carlos Michelis, complete with instruction booklet, is to be available for sale sooner or later!
You can also visit the game's official site.
Carlos Michelis, новая игра из Аргентины, уже показанная на Next Castle Party 2012, до отвала набитая перестрелками, загадками и сюжетными сценками, теперь доступна во всём своём великолепии за пять долларов. Для тех, кто не может решиться, стоит ли тратить на неё ~150 рублей, выпущена демка с одним уровнем.
Кстати, Ариэль Руиз планирует вскоре продавать игру в виде дискеты TR-DOS, с мануалом.
Подробнее на этом сайте.
Enjoy this article?