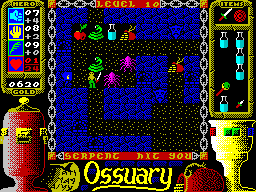 Today the ZX Spectrum has another game in its library: Ossuary.
Descend into an underground burial complex to rid it of the necromancer who has taken up home there, much to the annoyance of the local villagers who still want to use it to inter their dead. Work your way down through 24 levels of monsters and treasure to reach your enemy. Nobody has made it yet. Nor, probably, will you.
Download the game at the official site.